Description:
_____________________________________

Positive, solution-focused practices for
working with patients with dementia.
_____________________________________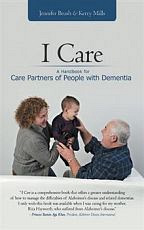 Speech-Language Pathologists are in a unique position to educate and assist both professional and family care partners of persons with dementia. I Care offers positive, solution-focused practices that SLPs can implement with nursing staff, home health aides, spouses, and adult children. By implementing the strategies in I Care as part of speech-language therapy, care partners will see their loved one as a whole person with strengths and abilities, which will promote greater independence and self-sufficiency for the person with dementia.
Minimizing the care partner's fears,
frustrations, and stress.
Managing changes in communication,
memory loss and behavior using
best care techniques.

Making the home safe and supportive.

Understanding changes in brain functions.

Addressing financial and legal issues.

And much more...

view table of contents >

"I Care is a comprehensive book that offers a greater understanding of how to manage the difficulties of Alzheimer's disease and related dementias. I only wish this book was available when I was caring for my mother, Rita Hayworth, who suffered from Alzheimer's disease."

Princess Yasmin Aga Khan
President
Alzheimer's Disease International
What's Included?
This text includes:
174 pages

5 x 8" Softcover

© 2014
Target Audience:
For SLPs and other care partners of persons with dementia.
Customer Reviews:
"I Care is a comprehensive book that offers a greater understanding of how to manage the difficulties of Alzheimer's disease and related dementias. I only wish this book was available when I was caring for my mother, Rita Hayworth, who suffered from Alzheimer's disease." - Princess Yasmin Aga Khan, President, Alzheimer's Disease International
---
"I Care is just what the health care community has been waiting for to fill the void for people caring for a loved one with Alzheimer's or a related dementia." - Dr. Stephen Jones, Specialty Geriatric Medicine, Greenwich Hospital, Greenwich, CT
---
"By shifting the perspective from caregiving to care partnering, this book offers an important reminder that there remain many capabilities that need to be recognized, maximized, and respected in persons with dementias. Rather than being limited to doing, the care focus is expanded to enabling and empowering these individuals to function at their remaining best. This enlightened view not only benefits persons with dementias, but has the potential to offer a more meaningful and less stressful experience for their care partners." - Charlotte Eliopoulos, RN, MPH, PhD, Executive Director American Association for Long Term Care Nursing
---
"With a world-wide, mounting population of persons diagnosed with Alzheimer's disease and other dementias, it's exciting that a book is now available specifically to help caregivers navigate the difficulties encountered in caring for someone suffering with cognitive impairments. I Care offers essential and fundamental advice for best-care practices, but it also provides a sense of real hope that quality of life issues will not necessarily diminish when effective care management principles are adopted." Marc Wortmann, Executive Director, Alzheimer's Disease International
---
"Dementia is a growing problem in the United States. Family members provide most of the care for these patients in their homes. Behavior issues in patients with dementia are common and most stressful and very often the care-givers are overwhelmed by the effort involved in taking care of these patients. Jennifer Brush and Kerry Mills have done a great job in providing a thorough and most comprehensive review of the issues in an easy to read and practical guide for the caregivers. I Care also presents a new concept." - Care Partner, involving the patient as a partner in his/her own care.
---
"I Care is a must read for any family caring for a patient with dementia." - P. Lal Arora, MD; FRCPC, Medical Director, Kendal at Home and Kendal Senior Independence, Oberlin, Ohio
---
"It is a certainty that we will be touched by dementia during our lifetime. I have seen dementia in 3 generations of family members and I have personally watched caregivers struggle, to varying degrees, with managing themselves while helping their loved ones through the course of their intellectual decline. Even with the rapid pace of medical discovery, which has improved our understanding of the pathophysiology and diagnosis of dementia, we have done little slow the progression of the disease. There is much work to be done but in the meantime, we need to better understand the caregiver's role, provide them with tools and strategies to comfort their loved ones and manage their own stress and emotions. I Care helps us bridge the gap between our medical understanding and the practical aspects facing caregivers of loved ones with dementia. The authors present a very accessible, understandable combination of scientific background, personal stories and practical strategies that simplify the daunting task of managing your life while being the best caregiver you can be. I wish I had read this book years ago. I could have been a better care partner for my grandmother and my mother-in-law." - Robert C McKinstry, MD, PhD, Professor of Radiology, Washington University School of Medicine, St. Louis, MO
Order Policies:
SHIPPING YOUR ORDER:
US Domestic - Orders are shipped through USPS or UPS. Rates for both services are based on current published rates. Please use our shipping estimator(available in the shopping cart)to determine your shipping costs, based on your preferences.

International - Orders are shipped through USPS or UPS. Duties and taxes are NOT included in the shipping cost. Some countries impose additional duties and taxes when packages cross their borders. Please check your local laws, as any additional charges(duties/taxes), may be due upon delivery of your package. NSS is not responsible for any additional charges.

Tracking information will be emailed to you upon order shipping.
BACKORDERED ITEMS:
If an item is not in stock when your order is received, you will be notified via email with the estimated ship date for your order. Generally, backorders are shipped within 1-2 weeks. If you order with a Purchase Order, your invoice will not be sent until the order is completely filled.
CANCELING AN ORDER:
If you have not received your order, you may cancel it by calling 888-337-3866, faxing 888-696-9655, or e-mailing info@northernspeech.com. In the event that your order has already been shipped, you are responsible for returning the items in accordance with our RETURN policy (a copy is provided with your order).
RETURN POLICY:
Order must be returned within 30 days after receiving order.
If you received a wrong/defective/damaged/duplicate order, please email info@northernspeech.com. Include your Order Number, Product Name, and problem with your order. Do not return the product until you have received an authorization from our Office.
If product is returned in unused and in good condition, a full refund will be processed, minus shipping and handling charges.
PAYMENT METHODS:
We accept checks (US dollars only), money orders, credit cards (Visa, MasterCard, American Express, Discover), EFT (electronic funds transfer) and purchase orders.
CREDIT CARD SECURITY:
When you submit your credit card and other sensitive information to NorthernSpeech.com, rest assured that the transaction is secure. In fact, shopping online at NSS is as safe as using your credit card at a restaurant or department store. Our servers use Secure Sockets Layer (SSL), one of the most robust encryption platforms available. SSL technology works with Netscape Navigator (versions 2.0 and above), Microsoft Internet Explorer (version 3.0 and above), AOL (AOL 3.0 and above), Firefox, Safari and Opera. This technology encrypts your private information from the moment you enter it until your transaction is processed, and your personal information will not be saved on a public server--thus safeguarding your personal information and guaranteeing privacy.
If you still feel unsure about sending your information via internet, please feel free to call us (888-337-3866) and we can process your order over the phone.
ALTERNATIVES TO USING YOUR CREDIT CARD THROUGH OUR WEBSITE:
We offer the option of phoning, faxing or mailing in your information after you place your order for products. Simply use the Downloadable Order Form, which you can print and fax or mail to our office.
More Offerings by: Jennifer Brush
Ecourses

e77
Persons With Dementia: Adapting The Environment To Support Communication And ADLs
Michelle Bourgeois, PhD, CCC-SLP, ASHA Fellow and Carrie Bruce, MA, CCC-SLP, ATP and Jennifer Brush, MA, CCC-SLP and Robin Chilton, MBA, OTR/L and Dr. Margaret Calkins, Ph.D.
0.15
$34.00
e07
Dysphagia Practice: Moving Toward More Comprehensive Treatment Protocols
Roxann Gross, PhD, CCC-SLP and Ianessa Humbert, PhD, CCC-SLP and Cathy Lazarus, PhD, CCC-SLP, BCS-S and Kathy Panther, MS, CCC-SLP and Robert Arnold, SLP.D., CCC-SLP, BCS-S and Jennifer Brush, MA, CCC-SLP
1.2
$149.00
e111
Making The Most of Mealtime: Helping Older Adults Compensate for Sensory Impairment During Meals
Jennifer Brush, MA, CCC-SLP
0.1
$24.00
e112
I Care: Educating Professional And Family Care Partners Of People With Dementia
Jennifer Brush, MA, CCC-SLP and Kerry Mills, MPA
0.1
$19.00
e124
A Functional Approach for Achieving Meaningful Goals with Persons with Dementia
Michelle Bourgeois, PhD, CCC-SLP, ASHA Fellow and Jennifer Brush, MA, CCC-SLP and Mary Casper, MA, CCC-SLP, BCS-S
0.3
$59.00
e141
Creative Connections in Dementia Care: Engaging Activities To Enhance Communication for People with Dementia
Jennifer Brush, MA, CCC-SLP and Rev. Katie Norris, M.Div
0.2
$39.00
e142
Navigating Neurocognitive Disorders: Step-by-Step Identification, Evaluation, Intervention and Collaboration
Jeanette Benigas, PhD, CCC-SLP and Jennifer Brush, MA, CCC-SLP and Kelsey Loushin, LICDC-CS, CDP and Rev. Katie Norris, M.Div
0.85
$129.00
e154
Perspectives on Dysphagia Service Delivery: All About Treatment
Cathy Lazarus, PhD, CCC-SLP, BCS-S and Jan Lewin, PhD,CCC-SLP, BCS-S and Christy Ludlow, PhD, CCC-SLP and Kathy Panther, MS, CCC-SLP and Jay Rosenbek, PhD, CCC-SLP, BC-NCD and Paula Sullivan, MS, CCC-SLP, BCS-S and Jennifer Brush, MA, CCC-SLP and James Coyle, PhD, CCC-SLP, BCS-S and Karen Dikeman, MA, CCC-SLP, BRS-S and Roxann Gross, PhD, CCC-SLP and Jacqueline Hind, MS, CCC-SLP, BCS-S and Marta Kazandjian, MA, CCC-SLP, BCS-S
2.0
$199.00
Products

A Clinician's Guide to Successful Evaluation and Treatment of Dementia
$49.00
More Offerings by: Kerry Mills
Ecourses

e112
I Care: Educating Professional And Family Care Partners Of People With Dementia
Jennifer Brush, MA, CCC-SLP and Kerry Mills, MPA
0.1
$19.00