Description:
_____________________________________
Twelve Important Life Lessons

Make them a part of your life and
start experiencing greater happiness!
_____________________________________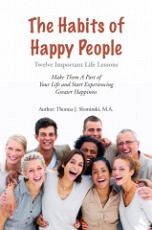 Everyone wants to be happy but few of us understand the thought processes that are necessary to experience happiness. I have studied this subject for over 35 years and can't wait to help you identify what is missing in your life now so you can quickly change things around and begin experiencing more positive feelings about yourself, the people in your life and life in general.
This book explains in simple language how to live a life worth living. By understanding what you control and what you are responsible for readers will quickly identify what they need to change in their life to create more positive experiences. Each of the Twelve Life Lessons provides easy to understand mental strategies to change feelings of fear, guilt and anger to feelings of excitement, contentment and joy.
The belief that the events in our lives determine the feelings we experience will be discussed and challenged. It will become clear to the reader why this belief has ruined and destroyed millions of lives. Readers will learn that the meanings we give to the events that occur in our lives are determined by our beliefs and responsible for our feelings.
With easy to follow mental strategies readers will learn how to give new meanings to their experiences by challenging and then changing their beliefs. Mastering this process will allow the reader to experience positive feelings regardless of what happens in life. Problems with relationships, child rearing, money, job satisfaction or the aging process can now all be addressed without fear that these events will cause serious mental breakdown and constant negative feelings. The Habits of Happy People will allow you to crawl out of the negative emotional tank and onto the solid ground of positive feelings and to a life worth living.
Order Policies:
SHIPPING YOUR ORDER:
US Domestic - Orders are shipped through USPS or UPS. Rates for both services are based on current published rates. Please use our shipping estimator(available in the shopping cart)to determine your shipping costs, based on your preferences.

International - Orders are shipped through USPS or UPS. Duties and taxes are NOT included in the shipping cost. Some countries impose additional duties and taxes when packages cross their borders. Please check your local laws, as any additional charges(duties/taxes), may be due upon delivery of your package. NSS is not responsible for any additional charges.

Tracking information will be emailed to you upon order shipping.
BACKORDERED ITEMS:
If an item is not in stock when your order is received, you will be notified via email with the estimated ship date for your order. Generally, backorders are shipped within 1-2 weeks. If you order with a Purchase Order, your invoice will not be sent until the order is completely filled.
CANCELING AN ORDER:
If you have not received your order, you may cancel it by calling 888-337-3866, faxing 888-696-9655, or e-mailing info@northernspeech.com. In the event that your order has already been shipped, you are responsible for returning the items in accordance with our RETURN policy (a copy is provided with your order).
RETURN POLICY:
Order must be returned within 30 days after receiving order.
If you received a wrong/defective/damaged/duplicate order, please email info@northernspeech.com. Include your Order Number, Product Name, and problem with your order. Do not return the product until you have received an authorization from our Office.
If product is returned in unused and in good condition, a full refund will be processed, minus shipping and handling charges.
PAYMENT METHODS:
We accept checks (US dollars only), money orders, credit cards (Visa, MasterCard, American Express, Discover), EFT (electronic funds transfer) and purchase orders.
CREDIT CARD SECURITY:
When you submit your credit card and other sensitive information to NorthernSpeech.com, rest assured that the transaction is secure. In fact, shopping online at NSS is as safe as using your credit card at a restaurant or department store. Our servers use Secure Sockets Layer (SSL), one of the most robust encryption platforms available. SSL technology works with Netscape Navigator (versions 2.0 and above), Microsoft Internet Explorer (version 3.0 and above), AOL (AOL 3.0 and above), Firefox, Safari and Opera. This technology encrypts your private information from the moment you enter it until your transaction is processed, and your personal information will not be saved on a public server--thus safeguarding your personal information and guaranteeing privacy.
If you still feel unsure about sending your information via internet, please feel free to call us (888-337-3866) and we can process your order over the phone.
ALTERNATIVES TO USING YOUR CREDIT CARD THROUGH OUR WEBSITE:
We offer the option of phoning, faxing or mailing in your information after you place your order for products. Simply use the Downloadable Order Form, which you can print and fax or mail to our office.