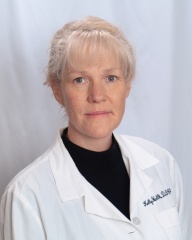 Kellyn Dailey Hall, PhD, CCC-SLP, is a clinician, researcher, and author with interests in evidence-based practice in dysphagia. She is the Director of Speech-Language Pathology for Therapy Partners at Camden Health and Rehab in Greensboro, NC where she coordinates and provides comprehensive SLP services primarily consisting of dysphagia evaluation/treatment. She also trains SLP students for preparation in medical speech pathology practice. Her current research focuses on the development/implementation of a pneumonia prevention and treatment protocol in skilled nursing facilities.
Financial — Kellyn Hall is the presenter of online CEU courses sponsored by Northern Speech; receives royalty payments.
Nonfinancial — Kellyn Hall has no relevant nonfinancial relationships to disclose.
"Great review of cranial nerve functions and clinical assessment/implications of cranial nerve damage. Information is directly applicable to clinical practice." – S.G. (Dec. 2016)
"Lots of pictures and visual examples." – L.N. (Dec. 2016)
"The entire discussion was extremely useful. It was an excellent course." – M.T. (Dec. 2016)
"I appreciated the specific testing methods for cranial nerves." – J.C. (Dec. 2016)
"Easy to follow and directly applicable to daily practice." – A.B. (Dec. 2016)
"Excellent review!! Great at explaining and giving examples! She's passionate about what she teaches!!" – J.D. (Dec. 2016)
"I appreciated the overview of a full and thorough OME. This was a great refresher on what to look for and assess when completing an exam. The presenter's style kept me engaged and interested while providing adequate, important information. She kept the information clear and concise." – L.S. (Dec. 2016)
"Excellent course for all SLPs to review important anatomy. The videos and pictures were useful additions. The jokes were corny but helped keep my interest." – D.M. (Nov. 2016)
"Precise, to the point, clinically relevant, great review, great illustrations." – R.S. (Nov. 2016)
"Excellent review of OME and CN examination pertinent to Speech-Language Evaluation. The presenter did an excellent job of clearly communicating the most important points." – L.E. (Oct. 2016)
"I liked the charts and forms provided to integrate immediately into practice." – C.V. (Oct. 2016)
"The most helpful portion was the thoroughness of the walk-through of the CN exam." – G.R. (Sept. 2016)
"Entertaining, additional bites of interesting facts, very comprehensive, great use of videos/photos." – A.T. (Sept. 2016)
"The summary sheet at the end and the copy of the OME for use is a fabulous printout!! I love that it relates everything back to the cranial nerve being tested. Presenter was an efficient and effective speaker. I appreciated not a lot of side-bar discussion." – C.M. (Aug. 2016)
"I appreciated the details regarding typical and abnormal findings. Information was presented in a very clear, organized manner with helpful use of visuals that clarified terminology and procedures." – J.O. (July 2016)
"Very detailed and allowed me the opportunity to replay as needed for clarification." – C.W. (June 2016)
"Excellent review and some tidbits I didn't know (or have long forgotten). I love the direct application of CN review and practical approach. Will definitely help me refine my OME in future practice. Thank you!" – J.V.R. (Mar. 2016)
"Comprehensive examination. I liked that the course was short and effective." – S.R. (Jan. 2016)
"I liked that the course was fun and not boring. The photos of various conditions to better define what might be seen clinically were great." – T.L. (Jan. 2016)
"I like how the examination form is organized and I found the sample reports to be beneficial." – H.G. (Jan. 2016)