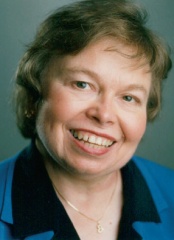 Jeri A. Logemann, PhD, CCC-SLP, BCS-S, was the Ralph and Jean Sundin Professor of Communication Sciences and Disorders in the Northwestern University School of Communication from 1995 until her death in 2014. She received all of her degrees at Northwestern and had taught and conducted research at Northwestern since 1978.
Dr. Logemann was a pioneer and leader in the study of dysphagia. She contributed significant research findings for the field of speech-language pathology over the past 35 years, including the development of the modified barium swallow study. She was a Fellow of ASHA and Fellow of the Chicago Medical Society and served as President of ASHA in 1994 and again in 2000.
Northern Speech Services wishes to recognize Dr. Logemann's significant contributions to the field of Speech-Language Pathology and NSS is honored to have partnered with her for over 25 years.
Speaker Disclosure:
Financial — Jeri A. Logemann developed this online CEU course offered by Northern Speech Services; her estate receives royalties.
Nonfinancial — Jeri A. Logemann had no relevant nonfinancial relationships to disclose with regard to this online course.
Intended Audience
This program is offered for 0.5 CEUs (Intermediate level; Professional area).

Offered for 5 CEEs. Northern Speech Services' continuing education activities are eligible for Speech-Language and Audiology Canada (SAC) Continuing Education Equivalents (CEEs) in speech-language pathology. An activity's eligibility for CEEs does not imply SAC's endorsement of its content or any associated products or procedures.
Content Disclosure: The content of this online CE course does not focus exclusively on any specific proprietary product or service. Presenter financial and non-financial disclosures may be found by clicking on the Presenter & Disclosures tab.
ASHA CEUs: NSS online courses are registered with ASHA and are offered for ASHA CEUs. The number of CEUs is noted above. Note that 0.1 CEU = 1 contact hour = equals 1 CEE.
Licensing Boards: Most state licensing boards DO accept CEUs earned online (usually classified as home-study credits). Some state boards do, however, place a limit to the number of credits that can be earned via home study/online courses. For the most current information, we suggest that you contact your licensing board or agency to verify acceptance policies and/or any credit limits related to home-study courses prior to registering for this course.
ASHA CE Registry: During the enrollment process, if you select to receive ASHA credit for this course and if you provide your ASHA number, NSS will automatically submit your CEU information to the ASHA CE Registry after successful course completion (80% on post test). This submission happens once per month, during the first week of the month. For example, if you complete your course on November 7th, NSS will submit all November online course CEUs to ASHA during the first week of December. When ASHA inputs the information into their database, they will mark the course as completed on the last day of the month in which it was completed, so November 30th using this example. The certificate of completion available for you to print immediately, however, will reflect the actual completion date, November 7th in this example. Due to ASHA processing procedures please allow 2-3 weeks, from the submission date, for the course to appear on your ASHA transcript.
ASHA CEUS: Attendees must meet at least one of the following conditions in order to be eligible to earn ASHA CEUs:
Current ASHA Member

ASHA Certificate of Clinical Competence (CCC) Holder

Licensed by a state or provincial regulatory agency to practice speech-language pathology (SLP) or audiology

Credentialed by a state regulatory agency to practice SLP or audiology

Credentialed by a national regulatory agency to practice SLP or audiology

Engaged in a Clinical Fellowship under the supervision of an individual with their ASHA CCC

Currently enrolled in a masters or doctoral program in SLP or audiology
If an attendee is not an ASHA member or CCC holder but meets any of the above criteria, they may inform the ASHA CE Registry of their eligibility by visiting this site.
Additional accrediting agencies by which Northern Speech is an approved CE provider:
California: NSS is approved as a provider of continuing education by the California Speech-Language Pathology & Audiology Board. Provider #PDP4. Online CEU limits may apply; please contact SLPAHADB for current online CEU acceptance policies.
Iowa: NSS is approved as a provider of continuing education by the Iowa Board of Speech Pathology and Audiology Examiners. Provider #169.
Kansas: NSS is approved as a provider of continuing education by the Kansas Department of Health and Environment. Provider #LTS-S0005.
"The information provided and the way in which it was organized is very useful. It gives a different perspective and easy to follow treatment plans. It would be a good tool to use for graduate dysphagia classes." – A.P. (Mar. 2017)
"I appreciated the interventions for various swallow dysfunction. I liked the ability to watch different videos and comment on them, then compare my comments to the report." – C.M. (Dec. 2016)
"I found the charts identifying the effects of swallow maneuvers that are visible on the X-Ray. I liked the videos of actual MBSS's completed." – A.J. (Dec. 2016)
"All of the material was beneficial. Thank you for offering this material. I liked the content, organization, accuracy, depth, videos, presenter's passion for the subject, presenter's sense of responsibility, presenter's dedication. I am forever thankful to you, Dr. Logemann." – R.S. (Nov. 2016)
"I liked all of the VFSS and the interpretation given to compare to my interpretation and recommendations. It was easy to follow the information." – K.S. (Nov. 2016)
"I liked the videos and simple, user-friendly ways to word reports so that families and patients will understand. Some of the videos could be a little clearer, and it would be helpful if the type and amount of bolus given was announced prior to showing the trial." – M.C. (Nov. 2016)
"I found the most benefit from watching the videos in the recommended format: watch first, make notes, and then read the report. I found this to utilize crticial problem-solving skills to determine possible etiologies for the subjects without having the case history ahead of time. The practicality is great! As a clinician who conducts 1-3 MBS studies per week, it was nice to view a myriad of etiologies and increase my confidence in interpreting studies." – S.G. (Nov. 2016)
"I appreciated the sequencing of introduction to solutions of aspiration. I liked the downloadable manual, individual pace, and that I can keep materials for later review." – M.H. (Oct. 2016)
"The identification of specific phsyiological dysfunction and appropriate treatment or strategies to help the pt was most beneficial." – K.A. (Oct. 2016)
"The variety of the patient presentations in the studies was very helpful to expose me to cases which may be more rare to observe in week-to-week assessment." – J.B. (Oct. 2016)
"I appreciated understanding what different swallowing disorders look like on a video, lots of time to see different disorders and anatomical structures." – K.H. (Sept. 2016)
"I enjoyed the diversity of reports exposing different etiologies and intervention approaches. I liked that the course was on-line and had no time restrictions." – X.O. (Aug. 2016)
"I loved the presentation of a clearly organized paradigm for dysphagia intervention which includes specific postural changes and swallowing maneuvers to try prior to diet consistency limitations. I loved the well-organized charts to guide multiple facets of dysphagia intervention. The image quality was a little poorer than I expected." – L.W. (Aug. 2016)
"I liked that the course had a wide variety of medical diagnoses. No 2 patients are the same or have the same symptoms, so I enjoyed that aspect. Good practice." – C.L. (July 2016)
"Excellent suggestions regarding specific swallow strategies and tx approaches for different types of swallowing disorders." – M.L. (June 2016)
"I appreciated working with the videos and being able to recognize aspiration and penetration as a student. I liked that it was interactive with the videos and had an easy to follow booklet." – K.C. (Apr. 2016)
"The course was well organized. The charts are a convenient resource. Also, I liked the ability to view a good amount and variety of different MBS in order to become familiar with anatomical landmarks, swallow function, and different disorders and procedures that affect the swallow." – J.F. (Mar. 2016)
"I appreciated the pages of information for review and inclusion of charts prior to watching videos. I liked the use of the videos allowing me to first make my assessment and then check my assessment with the reported results." – N.L. (Jan. 2016)
"The swallowing strategies to reduce aspiration/penetration were very beneficial." – M.Z. (Jan. 2016)
"The discussion about the order of intervention was especially helpful. I liked the delivery with the handouts plus real videos." – D.H. (Jan. 2016)
"I appreciated the review of the MBS and the recommendations. I liked the study guide and the MBS." – L.S. (Jan. 2016)