Description:
~ COMBINE & SAVE 25% ~
Systematic program to target articulation
and literacy skills simultaneously!
Literacy Speaks! is based on orthographic instruction (printed cues) and allows you to introduce children to sound-letter correlations using a sound-targeted approach while displaying essential sight words. Using the natural progression of letters-to-literacy, children develop literacy skills, expand language, enhance phonological awareness, and improve speech intelligibility - all simultaneously! This strategy not only corrects articulation and motor-planning errors but provides students with an early literacy foundation that encourages successful development of reading skills.
This dynamic program contains everything you need to easily implement these techniques for student success. Included are many engaging activities and worksheets for a creative and fun learning environment:
Manual

Alphabetic letter cards

Target stimulus word cards

Sight word cards

Punctuation cards

Letter tracing worksheets (reproducibles on CD)

Coloring worksheets (reproducibles on CD)

Home and classroom activities and worksheets (reproducibles on CD)

Reproducible books on CD
Target ages 4-10 years old including children with autism spectrum disorders. Made in the USA. In-Depth Training Available >
---
How It Works:
Read a book.

Taking a few minutes to read a book that introduces the target sound is an easy way to begin a therapy session.

Start with a single letter card.

Identify the letter and introduce the sound correlation.
Trace a letter.

These help children learn letter shapes while producing target sounds.
Go on a letter hunt.

Engage students in a fun and functional method to find target sound-letter correlations in various environments.
Once the sound is achieved, introduce the word.

Don't reveal the pictures until after the target sound is pronounced correctly at the blended word level with printed cues!
Color a picture.

These encourage generalization of targeted sounds at the word level in classrooms and at home.
Introduce sight word cards and combine sight word cards with the target word cards to establish target words in phrases.

Don't reveal the picture until after the target sound is pronounced correctly at the blended word level with the printed cues.
Continue to use the sight word cards combined with target word cards to turn the target words into sentences.

Start small and eventually see if your student can choose different cards to create a sentence.
Create a storybook and read it with your student.

Children love these whimsical books and have such a sense of accomplishment once they are able to read them outloud themselves. Just imagine their smile!
Read! Read!! Read!!!

Read to a child today and you will build the literacy foundations for tomorrow!
Click on More By This Author tab to view the individual Literacy Speaks! kits.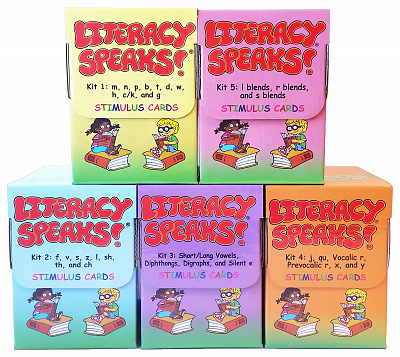 What's Included?
This order contains all 5 Literacy Speaks! Kits that target the full alphabet, plus diphthongs, digraphs, trigraphs, silent e, and blends of L, R, S. Includes 255 reproducible storybooks, over 450 reproducible worksheets, and over 1,000 stimulus cards.
Click on the links below to see more specifics on each Kit:
These implementing tools are contained in 2 easy-to-manage pieces per Kit:
Card Box: Indexed by letter/sound and color coded. The color coding is repeated on the cards to enable effective use and storage.
CD: Includes complete manual and allows for easy duplication of reproducible activities.
Target Audience:
For Speech-Language Pathologists, Special Educators, General Educators, Title 1 Educators, and Literacy Specialists working with young children on phonological awareness, speech intelligibility, language skills and early literacy skills.
This program is appropriate for
preschool through early elementary school children

children with special needs

children with communication disorders

students learning English as a second language

economically disadvantaged students
Customer Reviews:
"We have implemented Literacy Speaks! across our early childhood speech/language department and have seen big changes with some students who were just unable to grasp a certain sound or word using pictures. We received a positive response from parents and other educators as well." – SLP (Feb 2016)
---
"I use the cards a lot in my therapy sessions. The kids really like the colorful drawings and the stories." – SLP (Feb 2016)
---
"I attended Keli's session at NCSHLA in the Spring of 2014 and purchased the Literacy Speaks! to take back to our outpatient clinic. I have quite a few pediatric patients, and I began to use it with almost all of them. I have found it especially helpful for treating final consonant deletions, but also it gives a very structured approach for autistic children, which they need. The children and parents love it. I went ahead and printed out the pages, and placed them in 3-ring binders, organized by letters. I can quickly run the pages through the copier, then I just staple the "books" together. I highly recommend "Literacy Speaks" for any SLP working with a pediatric population." – SLP (Sept 2015)
---
"I have used this program at a school for children with behavior problems. My students enjoy the pictures and short stories." – SLP (Sept 2015)
---
"I saw Keli Richmond do a presentation on Literacy Speaks! at our state SLP conference. When she talked about incorporating orthographic cues into therapy, I was excited because I have been doing this for years with huge success! Her program makes it so easy for all of the SLP's in our office to incorporate literacy into our articulation treatment. The kids LOVE the books, and it is so great to have such successful "readers", even as young as 3 years old. We have seen tremendous growth, not only in articulation, but also in early literacy skills and even better attention with the use of this program. Kids are able to self-correct because they have the phonemic representation for the orthographic cue. I especially love that they have several different /r/ sounds available including vocalic /r/ at the beginning and the ending of words. And, it is so great to have a product that targets vowels! Literacy Speaks! has been such an asset to our program and has really increased the quality of services we provide. And, it is SO easy to use! We can't get enough of this program! In fact, I have requested that they expand the program to include consonant blends as well as consonants in the medial position. Can't wait to see more of this product!"
—Emily Hathaway, MS, CCC-SLP & Clinical Director
---
"After using the Literacy Speaks! materials for only a few weeks, my young students began to enjoy looking for letters. Sounds in a particular word position that children have struggled with for a long time just "seemed to click". With the use of the Literacy Speaks!® program, my students can see where sounds are located in words."
—Early Childhood Speech-Language Pathologist
---
"This program is highly successful for children that are making little or no progress with traditional therapy. I observed dramatic improvements in my students with Final Consonant Deletion. Literacy Speaks! not only remediates difficult error patterns, it creates phonemic awareness!"
—Early Childhood Speech-Language Pathologist
---
"I have one student who I was particularly 'stumped' with and I began using your program with him. What a difference! His DIBELS scores for phoneme segmentation have gone from 0-30 and alphabetic principal from 0-20, all in two months time. It is so exciting to see how much he loves the take home books. I have to have one for him each speech sessions...if not, he is very disappointed. As I walk him back to his kindergarten class, he stops anyone he can find in the hallway and asks them if they would like to hear him read!"
—K.M., Coordinator of Speech Services
---
"It has been absolutely amazing the progress our children have made from this program!"
—J.K., Center Supervisor, CANI Head Start
---
"You have created quite a unique and EFFECTIVE program! For all the very busy SLPs out there who needed a program like this, I thank you."
—Coordinator of Speech Services
---
"I have taught at-risk preschoolers for many years, and I am thrilled to say that Literacy Speaks! has been the most successful literacy approach I have ever used. Not only did my English speakers make remarkable strides in letter/sound correlations, but even my ESL students markedly improved their literacy and language skills. And the children were fully engaged throughout the process! A great program!"
—C.L., Head Start Teacher
---
"I was excited to find that 7 out of 9 of my self-contained special education preschoolers moved on to general education kindergarten and are either no longer eligible for special education services or will receive only minimal support as a result of consistently using Literacy Speaks! in my classroom. My 4-year-olds are identifying letters and sounds while increasing their language skills and remarkably, non-verbal 3-year olds are matching letters. Literacy Speaks! has inspired a diverse group of students with a variety of learning and achievement!"
—Early Childhood Special Education Teacher
---
"The Literacy Speaks! Program has dramatically improved my daughter's speech. Now, she enjoys searching for letters and has finally become aware of the sounds she is using in her speech. She is even beginning to correct several sounds on her own!"
—Parent of 4-year-old preschool student
---
"I have presented the first 3 sets at a district SLP meeting. Everyone was impressed with the strategy of letter-sound recognition first before pictures. They got that big take-away message loud and clear. One of our supervisors mentioned how this program goes right along with the Readwell program utilized in our MM and MS classrooms. Thanks again for putting together such a great tool. All the kids especially love the stories. The Kinder parents are knocked out at their kids 'reading' the high frequency word sentences."
—R.H., MA, CCC-SLP
Order Policies:
SHIPPING YOUR ORDER:
US Domestic - Orders are shipped through USPS or UPS. Rates for both services are based on current published rates. Please use our shipping estimator(available in the shopping cart)to determine your shipping costs, based on your preferences.

International - Orders are shipped through USPS or UPS. Duties and taxes are NOT included in the shipping cost. Some countries impose additional duties and taxes when packages cross their borders. Please check your local laws, as any additional charges(duties/taxes), may be due upon delivery of your package. NSS is not responsible for any additional charges.

Tracking information will be emailed to you upon order shipping.
BACKORDERED ITEMS:
If an item is not in stock when your order is received, you will be notified via email with the estimated ship date for your order. Generally, backorders are shipped within 1-2 weeks. If you order with a Purchase Order, your invoice will not be sent until the order is completely filled.
CANCELING AN ORDER:
If you have not received your order, you may cancel it by calling 888-337-3866, faxing 888-696-9655, or e-mailing info@northernspeech.com. In the event that your order has already been shipped, you are responsible for returning the items in accordance with our RETURN policy (a copy is provided with your order).
RETURN POLICY:
Order must be returned within 30 days after receiving order.
If you received a wrong/defective/damaged/duplicate order, please email info@northernspeech.com. Include your Order Number, Product Name, and problem with your order. Do not return the product until you have received an authorization from our Office.
If product is returned in unused and in good condition, a full refund will be processed, minus shipping and handling charges.
PAYMENT METHODS:
We accept checks (US dollars only), money orders, credit cards (Visa, MasterCard, American Express, Discover), EFT (electronic funds transfer) and purchase orders.
CREDIT CARD SECURITY:
When you submit your credit card and other sensitive information to NorthernSpeech.com, rest assured that the transaction is secure. In fact, shopping online at NSS is as safe as using your credit card at a restaurant or department store. Our servers use Secure Sockets Layer (SSL), one of the most robust encryption platforms available. SSL technology works with Netscape Navigator (versions 2.0 and above), Microsoft Internet Explorer (version 3.0 and above), AOL (AOL 3.0 and above), Firefox, Safari and Opera. This technology encrypts your private information from the moment you enter it until your transaction is processed, and your personal information will not be saved on a public server--thus safeguarding your personal information and guaranteeing privacy.
If you still feel unsure about sending your information via internet, please feel free to call us (888-337-3866) and we can process your order over the phone.
ALTERNATIVES TO USING YOUR CREDIT CARD THROUGH OUR WEBSITE:
We offer the option of phoning, faxing or mailing in your information after you place your order for products. Simply use the Downloadable Order Form, which you can print and fax or mail to our office.
More Offerings by: Keli Richmond
Ecourses

e64
Simultaneously Improve Speech Intelligibility, Enhance Phonological Awareness and Develop Language/Literacy Skills with Orthographic Instruction
Keli Richmond, MS, CCC-SLP
0.4
$79.00
e65
Autism Spectrum Disorders: Build Speech, Language and Literacy Skills With Orthographic Instruction!
Keli Richmond, MS, CCC-SLP
0.25
$35.00
Products

Literacy Speaks!® Kit 1
$99.00
Literacy Speaks!® Kit 2
$99.00
Literacy Speaks!® Kit 3
$99.00
Literacy Speaks!® Kit 4
$99.00
Literacy Speaks!® Kit 5 — Blends
$99.00
More Offerings by: Dianne Joustra
Products

Literacy Speaks!® Kit 3
$99.00
Literacy Speaks!® Kit 4
$99.00